ZAP Surgical Systems, Inc., a leading innovator in the field of surgical robotics, today announced that the 1,000th patient has been treated with the company's pioneering ZAP-X® Gyroscopic Radiosurgery® platform. By reducing the cost and complexities of historical stereotactic radiosurgery (SRS) technologies, ZAP has shown rapid success in bringing advanced brain tumor care to settings and locations previously considered infeasible.
Radiosurgery is a well-established and effective treatment for many brain tumors, as well as other functional and vascular cranial diseases. For eligible indications, the SRS procedure is a completely non-invasive and pain-free alternative to costly and often debilitating surgeries.
The 1,000th treatment was delivered at the European Radiosurgery Center Munich (ERCM), one of the world's most accomplished global SRS providers. ERCM initiated ZAP-X patient treatments in summer 2021 and has since treated more than 300 patients.
The milestone patient was a 57-year-old male treated for a recurrent meningioma, a tumor that arises from the membranes that surround the brain. As the tumor was no longer a candidate for a second invasive surgical procedure, ZAP-X Gyroscopic Radiosurgery was ideally suited as an alternative. The treatment was delivered in a single outpatient procedure which took only 25 minutes.
"As one of the first centers to offer ZAP-X, we've seen firsthand the value the technology provides in delivering advanced SRS without the compromises associated with the conventional technologies found in most hospital radiation oncology departments," said Alexander Muacevic, M.D., Neurosurgeon, Radiosurgeon and Medical Director of the European Radiosurgery Center. "Designed exclusively for cranial treatments, ZAP-X pays particular attention to lowering radiation exposure to healthy brain tissue and surrounding organs, and thereby potentially reduces the risk of adverse effects including cognitive deficit."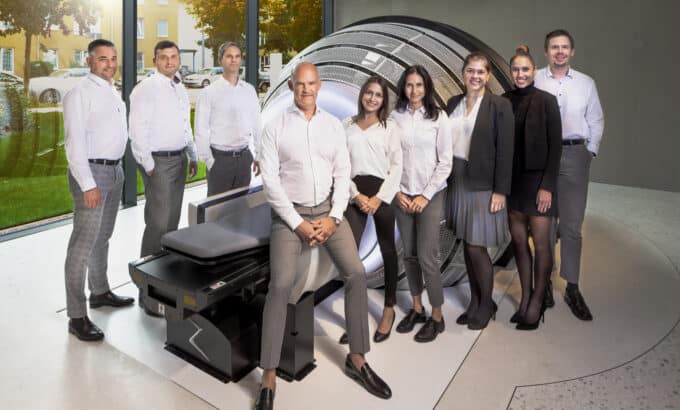 "We are thrilled to see this rapid progress. Approximately 30% or more of cancer survivors develop brain metastases, resulting in millions of potential SRS candidate patients worldwide. Yet today it's estimated that only 200,000 patients receive SRS annually," said John R. Adler, Jr., M.D., ZAP's founder and CEO. "Why the disparity? The cost and complexity of past technologies has left SRS heavily concentrated among the largest academic hospitals, leaving small to mid-size hospitals and outpatient settings often without access to state-of-the-art radiosurgery. We are on a mission to change that paradigm, and ERCM is a perfect example."
ZAP-X uses a revolutionary approach to deliver high-precision radiation, primarily via a novel vault-free design which eliminates the need for providers to build costly radiation-proof facilities. And through ZAP's use of a modern linear accelerator to produce radiation beams, hosting hundreds of volatile Cobalt-60 sources has been obsolesced, thereby removing the significant costs and efforts related to regulatory licensing, security, decay, and recurring replacement.